For whom?
Team leaders, project managers and others who are expected to lead people, either in the same location or at a distance.
Group size: up to 12 participants
Description
Many leaders and individual contributors working in an international context are at the risk to suffer from work overload. Often working in multiple project teams and across time zones, the demand for their availability is high, also outside working hours.
Technology enables efficient working across geographies and locations, but may also make it harder to disconnect. This type of a work environment may lead to increased levels of stress, burnout, reduced engagement and higher turnover. 
Leaders need to be aware of this trend and have the skills and tools to influence the working climate in a positive direction. They should also have to skills to increase their employees' resilience.
Programme overview
The impact of the industrial an digital revolution on our view of stress

The benefits of health – my role as a leader beyond this program

Stress management

The impact of technology on our health

Burn-out prevention

Role plays, best practices, peer learning in small groups and case studies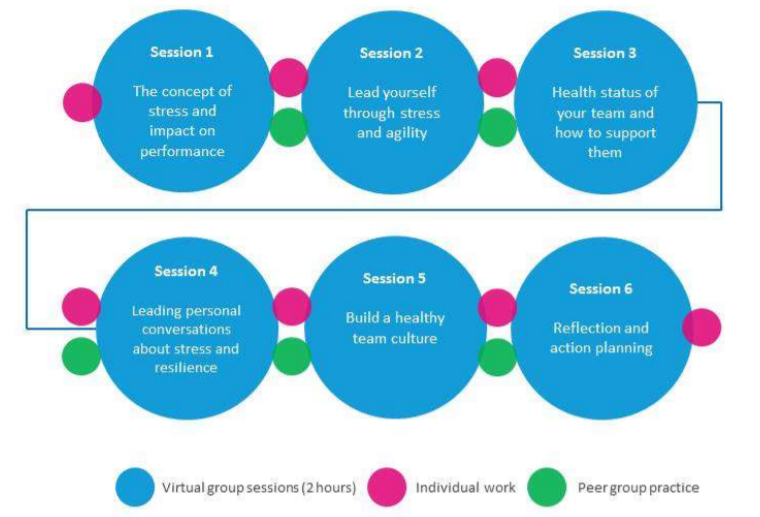 "I should also highlight Nomadic IBP's outstanding contributions in helping us to hone a high-performing team that is well-equipped to consistently deliver high quality end-products despite the constant stresses and strains inherent in down-sizing at our site." 
EMEA HQ of Japanese Pharmaceutical Company
From the training course you'll learn the following:
Better understand the degree of influence they have on stress and overall health 

Be able to manage themselves and others in a stressful environment 

Know how to recognize signs of distress in themselves and others 
Have developed the skill to address (mentally) unhealthy behavior 
Know how to build a team where people support each other 
Have a plan to make a positive impact on how the team handles stress

.
On an organizational level, this will lead to higher employee engagement, better performance, reduced stress-levels and a lower % of days off due to sickness.
Included in this training programme
State of the art research-based content.

Delivered by a 2 person team including an expert in the area of health, resilience and stress-reduction.

A highly interactive virtual classroom (not a webinar environment).

Dedicated webpage for each group with all course information.

Access to recorded sessions up to 1 month after the last session.

A handout with a summary of the sessions and a list of further resources.
How to select your Programme
Engage with Nomadic IBP to become an Online Training Professional
Read our blog for the latest articles within Online Training.
Why choose Nomadic?
Cutting edge content and knowledge when it comes to virtual teamwork
Completely online programmes (or a combination of virtual and f2f delivery)
Business school quality at half the price
Cross cultural knowledge on over 20 countries and services offered in over 20 languages